Advanced Wound Care in Davenport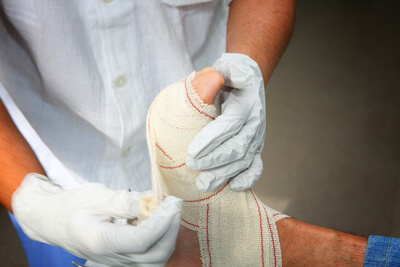 Do you have a chronic wound that hasn't healed? Perhaps you've tried other medical approaches, but haven't gotten results. At Abundant Health Physical Medicine, we are pleased to now offer on-site advanced wound care for those patients dealing with chronic, non-healing wounds.
"Because we're an integrated clinic that offers both chiropractic care and medical services, advanced wound care is a good fit for our practice," said Dr. Sinan. "We're excited to bring this new advanced form of healing for those who have been dealing with these chronic issues that haven't gotten better," he added.
With this new service, we can help with several types of wounds, including diabetic foot ulcers and venous stasis ulcers of the lower extremity below the knee. Many people with such wounds have gone through the typical wound care process, but haven't gotten
healing results, leaving the wound in a state of non-healing.
What Happens If Wounds Don't Heal?
If a person's wounds don't heal, that leaves them vulnerable to infection. The reason this becomes a problem is they can't feel the infection going on because they've lost sensation in that area. Ultimately, if an infection becomes severe, that can lead to amputation. People can lose toes, feet, and even legs because of a wound that didn't properly heal.
Advanced wound care will heal the wound itself and prevent the risk of someone losing a limb, which can be traumatic not only physically, but mentally.
Our Approach to Healing
We use a regenerative skin graft substitute with advanced healing growth factors. That's the difference between traditionally treating a wound and utilizing advanced wound care for chronic wounds. We've seen wounds that haven't improved in the healing process, but after receiving advanced wound healing, the wound healed within 4-10 weeks.
Frequently Asked Questions
Is it a one-time application or are multiple sessions needed?
Typically, a reapplication is given at least once a week until the wound has healed.
Does insurance cover advanced wound healing?
Medicare covers the service.
Who provides the service?
Our advanced wound care nurse who has 20 years of experience in addressing patients' wounds.
Book an Appointment
Contact us today to schedule an appointment. We want to give you the healing help you need.

Advanced Wound Care in Davenport IA | (563) 275-6332