Natural Joint Pain Relief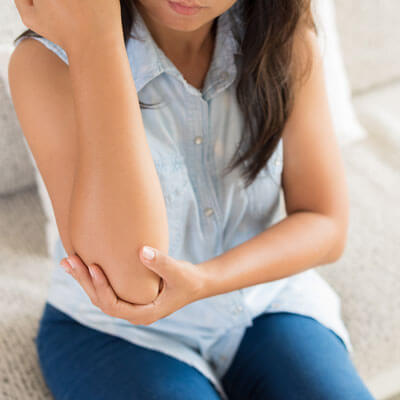 Have you heard about the benefits of Wharton's Jelly connective tissue supplement? At Abundant Health Physical Medicine, it's one of the options we offer within our suite of restorative medicine solutions.
Wharton's Jelly can be used to address different forms of pain, including musculoskeletal joint pain and soft tissue pain, such as trigger points, and spasms in the neck, mid and low back.
The Benefits of Wharton's Jelly
Our minimally-handled Wharton's jelly-derived umbilical cord allografts are abundant in growth factors, proteins and cytokines. The birth tissue allografts are ethically derived from healthy consenting mothers following full-term, live, planned Cesarean section deliveries. Please note we do not use any material obtained from the embryo or fetus.
Many of our patients have seen relief when it comes to common joint problems like:
Rotator cuff injuries
Knee osteoarthritis
Golf and tennis elbow
Carpal tunnel syndrome
Small joint arthritis (hands, wrist, knuckles)
Hip pain
Ankle pain
And more
The tissue, which goes to the FDA-regulated tissue bank, is cryopreserved. The tissue we receive is still cryopreserved at our facility in a medical-grade freezer at -120℉. Just prior to the injection, we thaw out the tissue.
Designed to Repair and Heal
Wharton's Jelly is an injectable designed to repair and heal structural defects in the following:
Joints
Soft tissue
Connective tissue
Muscular tissue
Ligaments
Tendons
Chronic joint pain is the most common condition Wharton's Jelly is used for. If you have chronic joint pain–or you've had joint surgery and it's not improving–you could be a great candidate for Wharton's Jelly.
In addition, Wharton's Jelly can act as an injection to help speed your body's own healing and provide relief for problem joints. We'll let you know if you're a candidate for injection when you visit us and we get to know more about your ailments and goals.
Hyaluronic Acid Knee Joint Injections
If you suffer from osteoarthritis of the knee, you may have heard about the relief people enjoy with the help of hyaluronic acid knee joint injections. It's a nonsurgical way to lubricate the knee, alleviating discomfort, enhancing mobility, preventing osteoarthritis of the knee and letting you get back to living your life on your terms.
The Importance of a Cushion
Joints contain synovial fluid, which is required to help absorb the shock and pressure involved in everyday movements. This fluid prevents or slows down the degeneration of a joint. If you have osteoarthritis, this fluid is weakened. The injections are applied to the affected area, restoring the much-needed lubrication.
Find Out More Today
Contact us today to learn more about our restorative medicine options. We look forward to helping you heal.
CONTACT US

Natural Joint Pain Relief Davenport IA | (563) 275-6332