Platelet Rich Plasma (PRP) Therapy
at Abundant Health Physical Medicine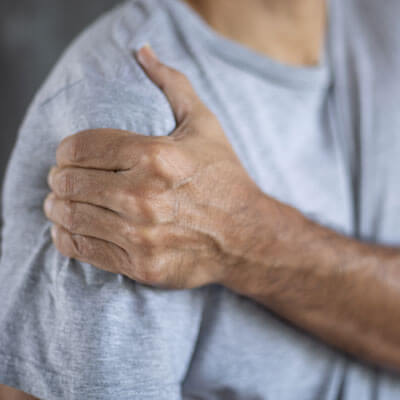 At Abundant Health Physical Medicine, we offer three options for natural joint pain relief—SoftWave therapy, Wharton's Jelly, and now PRP—platelet rich plasma injections.
Platelet rich plasma injections (PRP) can be used for any musculoskeletal joint issue or joint condition such as tennis elbow, golfer's elbow, plantar fasciitis, low back pain, knee pain, osteoarthritis, neuropathy, tendinitis, muscle sprains/strains, rotator cuff injuries, and more.
What is PRP?
PRP – Platelet-rich Plasma therapy uses your own body's platelets to help your body heal itself. Your immune system gets "turned on" when PRP is injected into the problem area. This prompts your system to remove damaged cells and prepare the area for healing.
Our Nurse Practitioner (NP) will do a simple blood draw of no more than two vials. The blood is put into a centrifuge to separate the red blood cells from the platelet rich plasma, which takes about ten minutes.
The NP uses a syringe to draw out from the bottom third of the separated plasma which holds all the regenerative and healing properties. PRP contains several different growth factors and other cytokines to stimulate healing of soft tissue like muscles, ligaments, and tendons.
The PRP is then injected back into the patient at the site of the injury or into the tissue we're trying to heal and restore. Usually 2-3 injections are done at the site to get the maximum benefits, and multiple sites may be done in one visit. For example, both knees may receive injections at the same appointments as the elbows. Any unused plasma is safely disposed of, we don't save anything.
Patients should be hydrated and in good health to receive PRP therapy.
Is PRP Right For Me?
PRP might be a good option for you if you have:
Pain lasting at least three months or longer (for chronic conditions)
Sprains, strains, tears of muscle/ligament/tendon (acute conditions)
Symptoms and physical examination results consistent with diagnosis
Persistent pain despite standard non-operative treatment (physical therapy, NSAIDS, activity modification, steroid injections, etc.)
Pathological changes seen on diagnostic imaging—X-ray, MRI, CT, and/or ultrasound—or you just want to delay or avoid surgical treatment
Let's Talk About It
Make an appointment to discuss PRP therapy and see if it's right for you. Call us today!
CONTACT US

Platelet Rich Plasma (PRP) Therapy Davenport IA | (563) 275-6332