Regenerative Medicine at Abundant Health Physical Medicine
Have you heard about the benefits of ProText™, a highly concentrated Wharton's jelly connective tissue supplement? At Abundant Health Physical Medicine, it's one of the options we offer within our suite of regenerative medicine solutions. ProText can be used to address different forms of pain, including musculoskeletal joint pain and soft tissue pain, such as trigger points, and spasms in the neck, mid and low back.
The Benefits of Umbilical
Cord Tissue Allografts
Our minimally handled Wharton's jelly-derived umbilical cord allografts are abundant in growth factors, proteins and cytokines. The birth tissue allografts are ethically derived from healthy consenting mothers following full-term, live, planned Cesarean section deliveries. Please note we do not use any material obtained from the embryo or fetus.
The tissue, which goes to the FDA-regulated tissue bank, is cryopreserved. The tissue we receive is still cryopreserved on dry ice. Just prior to the injection, we thaw out the tissue.
Designed to Repair and Heal
ProText is an injectable designed to repair and heal structural defects in the following:
Soft tissue
Connective tissue
Muscular tissue
Ligaments
Tendons
Frequently Asked Questions
What advantage does ProText have over steroids?
While a steroid injection reduces inflammation, it leaves the treated areas susceptible to further injury, deterioration and degeneration, particularly when used regularly. Many people will go every several months for injections in their hand or knee. Wherever they get the injections, ultimately the efficacy of those injections wears off.
If you repeatedly get steroid injections, you could end up with a more brittle, deteriorated joint. And although a steroid injection reduces inflammation, it also stops the natural healing process.
Does it matter what blood type I am?
No, Wharton's jelly can be used on anyone regardless of their blood type.
What conditions respond to Wharton's jelly?
Chronic joint pain is the most common condition Wharton's jelly is used for. This includes pain in the hips, shoulders and wrists, and conditions like plantar fasciitis and carpal tunnel syndrome. You may have had surgery in an area, including the rotator cuff, and it isn't improving, or might even seem to be getting worse. If this sounds like your situation, you could be a great candidate for ProText.
How many times do I need it done?
We have the option to re-treat as needed. So if you don't get the results you sought after the first injection, you can receive the injectable several more times.
Is ProText covered by insurance?
We will check your benefits and let you know what is covered, so there are no surprises.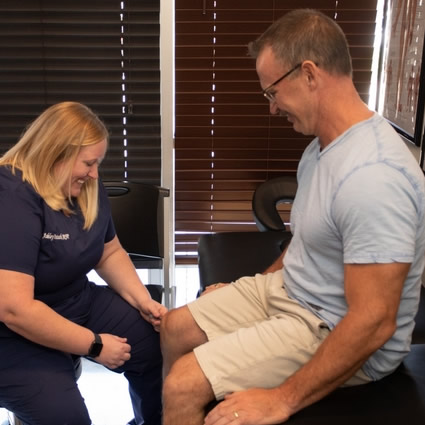 Are you suffering from degeneration or osteoarthritis in the knee or hip? If so, you may have heard about the relief people enjoy with the help of knee joint injections. At Abundant Health Physical Medicine, these injections are one of the services offered in our suite of regenerative medicine solutions.
Target Your Pain
Did you know that the most common cause of hip and knee pain is osteoarthritis? If you're suffering from serious pain, you've likely felt limited in what you're able to do. A company called Bioventus has created a revolutionary injection therapy that works with your body's natural processes. It's a nonsurgical way to lubricate the joint, alleviating discomfort, enhancing your mobility and letting you get back to living your life on your terms.
The Importance of a Cushion
Joints like the hip and knee contain a fluid called synovial fluid. It's required to help you be able to absorb the shock and pressure involved in everyday movements. This fluid prevents or slows down the degeneration of a joint. If you have osteoarthritis, this fluid is weakened. The knee joint injections is applied to the affected area, restoring the much-needed lubrication.
Frequently Asked Questions
Are the injections done in-house?
Yes. At Abundant Health Physical Medicine, we have health professionals who are trained and qualified in administering knee joint injections.
Will insurance cover my injections?
Certain insurances will cover injections. We will check your benefits before you have treatment so that you know what your benefits involve.
How often will I need injections?
The frequency of your injections will depend on your lifestyle and the level of degeneration present in the affected joint. You may have it done once every six months, once a year or every other year.
How long does it take to get an injection?
The appointment for an injection is quick. It will take just a couple of minutes of your time. You can return to your daily activities immediately.
Contact Us
Find out if ProText can help you. Call (563) 275-6332 today to schedule an appointment!

Regenerative Medicine in Bettendorf IA | (563) 275-6332