Regenerative Medicine at Abundant Health Physical Medicine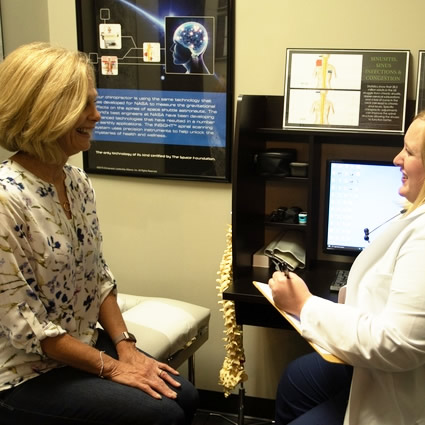 Have you heard about the benefits of amniotic allograft? At Abundant Health Physical Medicine, it's one of the options we offer within our suite of regenerative medicine solutions. They can be used to address different forms of pain. If you have struggled for some time, we encourage you to find out whether amniotic allograft can help you.
Completely Natural
The amniotic fluid used is from an amniotic membrane, donated by mothers who have recently had a baby. The laboratory harvest the fluid so it can be used by anyone. It's been used for decades with no adverse reactions, giving it a long history of safety and effectiveness.
How Amniotic Allograft Works
You can think of amniotic fluid as adaptable. As if they're blank and waiting to be programmed, they can be injected into any area and will replicate into the tissue that is needed there. Amniotic Allograft is most commonly used for osteoarthritis or degeneration. When injected, the cells go to work to regenerate the area, creating healing.
Frequently Asked Questions
Does it matter which blood type I am?
No. Amniotic fluid can be used on anyone regardless of their blood type.
What types of conditions will respond well to amniotic allograft?
Chronic joint pain is the most common condition that amniotic allograft is used for. This includes pain in the hips, shoulders and wrists, and conditions like plantar fasciitis and carpal tunnel syndrome. You may have had surgery in an area, such as the rotator cuff, and it isn't improving, or might even seem to be getting worse. If this sounds like your situation, you could be a great candidate for Amniotic Allograft.
How many times do I need to have it done?
Amniotic Allograft therapy is a one-time occurrence. You do not need to repeat treatment to have it work.
Is Amniotic Allograft covered by insurance?
Many plans have coverage. We will check your benefits and let you know what is covered so that there are no surprises.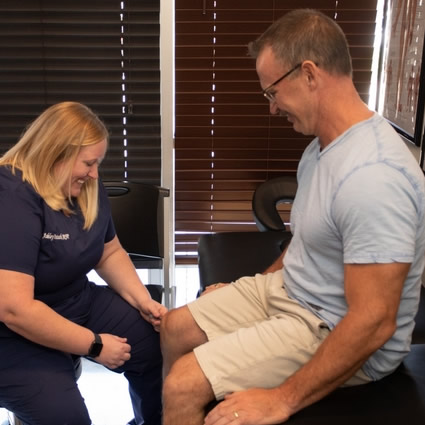 Are you suffering from degeneration or osteoarthritis in the knee or hip? If so, you may have heard about the relief people enjoy with the help of knee joint injections. At Abundant Health Physical Medicine, these injections are one of the services offered in our suite of regenerative medicine solutions.
Target Your Pain
Did you know that the most common cause of hip and knee pain is osteoarthritis? If you're suffering from serious pain, you've likely felt limited in what you're able to do. A company called Bioventus has created a revolutionary injection therapy that works with your body's natural processes. It's a nonsurgical way to lubricate the joint, alleviating discomfort, enhancing your mobility and letting you get back to living your life on your terms.
The Importance of a Cushion
Joints like the hip and knee contain a fluid called synovial fluid. It's required to help you be able to absorb the shock and pressure involved in everyday movements. This fluid prevents or slows down the degeneration of a joint. If you have osteoarthritis, this fluid is weakened. The knee joint injections is applied to the affected area, restoring the much-needed lubrication.
Frequently Asked Questions
Are the injections done in-house?
Yes. At Abundant Health Physical Medicine, we have health professionals who are trained and qualified in administering knee joint injections.
Will insurance cover my injections?
Certain insurances will cover injections. We will check your benefits before you have treatment so that you know what your benefits involve.
How often will I need injections?
The frequency of your injections will depend on your lifestyle and the level of degeneration present in the affected joint. You may have it done once every six months, once a year or every other year.
How long does it take to get an injection?
The appointment for an injection is quick. It will take just a couple of minutes of your time. You can return to your daily activities immediately.
Call Now
Discover whether regenerative medicine Bettendorf can restore your health with Amniotic Allograft therapy or knee joint injections. Contact us today to schedule your free consultation!
CONTACT US

Regenerative Medicine in Bettendorf IA | (563) 275-6332