Pregnancy Chiropractic in Davenport
Gentle Care for You and Your Baby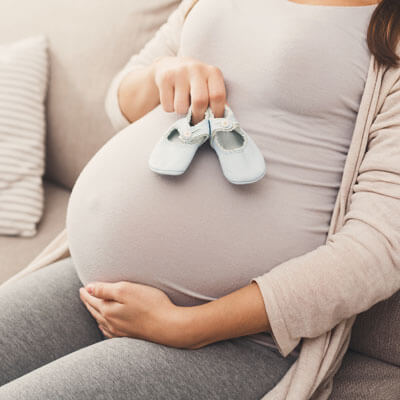 Chiropractic care is extremely safe during pregnancy, and it's an excellent way to keep your body functioning optimally and feeling great. At Abundant Health Physical Medicine, we use gentle chiropractic techniques designed specifically for prenatal care to help keep your joints, muscles and ligaments working properly, and to free your nervous system of interference.
Because your body goes through so many rapid changes in such a short amount of time when you're pregnant, your joints and nervous system is bombarded with stress. Removing that stress through chiropractic adjustments allows your body to adapt and function as it should.
By keeping your back and pelvis properly aligned, we reduce tension on the uterus, which creates space for your baby to grow, develop and get into the best position for childbirth. Dr. Sinan is certified in Webster technique as well as Torque Release Technique® to provide the best in prenatal care.
Benefits of Prenatal Chiropractic Care
Many women assume that pain and discomfort are unavoidable parts of pregnancy, but that's not true. By keeping your body aligned and your nervous system functioning optimally, we can help reduce or eliminate back pain, pelvic pain and nausea–without drugs. And many studies confirm that women who receive regular chiropractic care throughout their pregnancy enjoy significantly shorter labor and delivery times.
Start Early
We'd love to provide chiropractic care even before you get pregnant so your body can be in the best physical condition to accommodate the stress of growing a tiny human for the next nine months. But wherever you are in your pregnancy, we can help maximize your enjoyment of this special time. Your care plan will be designed specifically for your needs and goals, and we go out of our way to ensure your comfort while you're in our office. We even have specialty "pregnancy pillows" that allow you to comfortably lie face down for your adjustment.
We also encourage patients to continue with our care after delivery, so we can help your body recover from the rigors and trauma of childbirth.
Schedule Care Today
Contact us today to schedule your prenatal appointment.

Pregnancy Chiropractic in Davenport IA | (563) 275-6332