Red Light Therapy in Davenport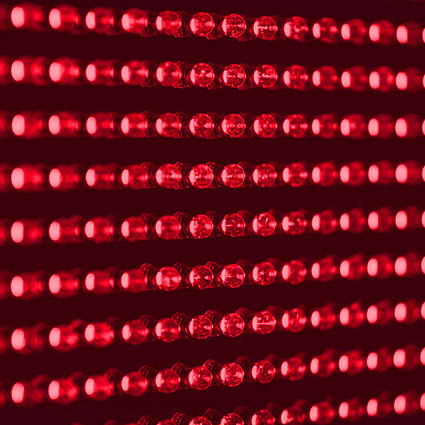 Studies have shown that exposure to certain frequencies of red light help stimulate healing in the body. At Abundant Health Physical Medicine, we have partnered with PlatinumLED, the industry leader in light therapy. We have four FDA-approved BIOMAX 900 panels that output red and near-infrared light to provide our patients with state-of-the-art healing options.
We offer whole-body light therapy as a stand-alone service, or as part of your Renew + Membership. We offer unlimited use of our BIOMAX 900 light therapy panels as part of your Renew + membership, which includes a full suite of
recovery services
. It is also available as a stand-alone therapy.
What Is Red Light Therapy?
Our LED panels produce specific wavelengths of light that mimic the red you see in early morning sunrises without the harmful UVA and UVB rays. This frequency of light penetrates through the skin into the tissues below and creates a reaction at the cellular level. This reaction improves blood flow and circulation to help heal and restore tissues anywhere in the body.
Healing Benefits
The cellular response to these wavelengths of light promotes and facilitates healing from sprain/strain injuries, fractures and other injuries. It also stimulates cell signaling and repair, which may alleviate neuropathy symptoms, and may improve hair follicle health to promote hair growth.
Since these frequencies of red light penetrate deeply into the tissues (even into the bone marrow), they may help improve cellular function in every cell and organ of the body. Our panels include a small amount of blue light as well, which helps to kill bacteria on the skin to improve acne and cold sores.
Safer Than the Sun
Although red and near-infrared (NIR) light mimics the sun's rays, our panels do not produce the harmful UVA and UVB rays that are damaging to your skin. In fact, the cellular repair invoked by this therapy has been shown to increase collagen production, which results in firmer skin.
Learn More Today
Contact us today to learn more about red light therapy, or to join Renew +.

Red Light Therapy in Davenport IA | (563) 275-6332